SCHEDULE DETAILS

Summit Agenda
WELCOME/REGISTRATION/BUILDING DESIGN THINKING TOURS/EXPLORE EXHIBITS/NETWORKING
Newly Redesigned State of Art Learning Commons & Classroom Tours
WELCOME/ McGill University Land Acknowledgement/FIRESIDE CHAT
The State of EdTech in Canada: 'Driving Innovation Through Evidence-based Research'
Moderator 
          Robert Martellacci  – President, MindShare Learning Technology
The Panel Includes:
Maxim Jean-Louis – Chief Executive Officer of Contact North | Contact Nord
Karen Yamada – Chief Learning Office & CFO, C21 Canada
Dr. Mario Chiasson – Director of Research, Innovations and Change Management at District scolaire francophone Sud
Dr. Adam Dubé – Associate Professor and Director of the Technology Learning and Cognition Lab, McGill University
Artur Rodrigues, Cloud Innovation Center Tech Lead, AWS
Geoff Edwards, Superintendent of Learning Technologies, Ottawa Catholic School Board
REGISTRATION, LIGHT BREAKFAST, & EXHIBITS OPEN
WELCOME, FIRST NATIONS LAND ACKNOWLEDGEMENT AND OFFICIAL GREETINGS
Robert Martellacci, Founder & Conference Co-Chair
Dr. Dilson Rassier, Co-Chair, Dean of the Faculty of Education
Dr. Fabrice Labeau, Co-Acting Provost and Vice-Principal (Academic), McGill University
McGill University Land Acknowledgement
Master of Ceremonies, Michael Chechile,  Pedagogical Consultant & Former Director General of the Lester B. Pearson School Board
OPENING KEYNOTE
Topic: Global Perspective on the State of EdTech
Dr. Tracey Burns,Chief Research Officer, Senior Analyst, OECD (Seconded) , National Center on Education and the Economy
Topic: Leading change in a crisis context - Sustaining learning from education in emergencies, survival, well being and impacting over a hundred thousand of children in need.
Rahmatullah Arman, Founder & President, Teach For Afghanistan
CROSS CANADA CHECK UP PANEL: The State of EdTech
Gain Valuable Insights From Canadian and Global Experts on The State of EdTech in Canada
Peter Singh, Executive Officer – IT Services, TDSB
Dilson Rassier, Co-Chair, Dean of the Faculty of Education
Steve Brown, President & Chief Executive Officer, NELSON
Amanda Rose, Educator, Tomken Road Middle School - Peel District School Board, Canada's Schools of the Future Challenge Winner 2022
Sophia Mendoza, Director, Instructional Technology Initiative L.A. Unified & International Society of Technology in Education (ISTE) Board Member
Shawn Young, CEO and co-founder, Classcraft, President, Edteq
HEALTH/ NETWORKING BREAK & NEW RENOVATION FACULTY TOUR / EXPLORE EXHIBITS
FUTURE-PROOF LEARNING DESIGN THINKING SESSION
Exploring strategies to prevent the 'Great Snapback' through an open forum roundtable conversation
This design thinking large group exercise will focus on reflecting on how leaders would tackle future crisis based on innovations that occurred during the pandemic.
What technology innovations did you introduce successfully that you will continue to incorporate for the future?
What did you learn from failures in attempting to innovate?
Lessons Learnt: How will you prepare differently for the next pandemic or crisis?
HONOURING INDIGENOUS CULTURES & LANGUAGES THROUGH TECHNOLOGY
Peter Skillen, Project & Curriculum Lead at CodeToLearn.ca
Michael Quinn, President, LCSI
DRAGON'S DEN STARTUP CHALLENGE
Startups Pitching:
Blue Guardian
Teameo.io
Vireo Education
Oplan
RedBird Circle
Judges Panel :
Diego Magalhaes – Chief Technologist, Education & Partners, AWS
Aman Sahota – Co-Founder at Ei Amplified, Canadian EdTech Startup Challenge 2021 Winner
Ron Sedran – Managing Director, Canaccord Capital
Phil Cutler – CEO, Paper
Kathy Hurley – Former EVP Pearson Foundation and Industry Consultant, Author, Innovate HERs
Barbara "Bobbi" Kurshan – Public/Private Company Board Director, C-Suite Executive, Audit, CEO, Author, Innovate HERs
Joe Simms – Sales Director, Public Sector and SWO, Compugen
Andy Singh – Founder & CEO, Teqfocus
PRESENTING The 7th CANADIAN EDTECH AWARDS
We are thrilled to announce our 7th Annual Canadian EdTech Awards Honouring Excellence in Innovation in Education.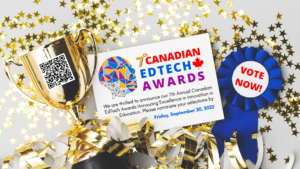 ROUNDTABLE POWER PANEL PRESENTATIONS
Supporting Indigenous students with Digital Skills & Learning Resources Hosted by Dr. Stephen Peters, Faculty Lecturer Assistant Director, & Office of First Nations and Inuit Education, McGill University
Female entrepreneurs: Discussing the inspiration behind InnovateHERs, leveraging an entrepreneurial mindset to advance your professional career Hosted by Kathy Hurley,
Former EVP Pearson Foundation and Industry Consultant, Dr. Barbara "Bobbi" Kurshan
Public/Private Company Board Director, C-Suite Executive, Audit, CEO, Author & Lisa Schmucki, Founder & CEO, edWeb.net, and Jennifer Ferrari, CEO & President of Education Research & Development Institute, ERDI US
The future of school design beyond covid, supporting districts in designing transformational models for student-centered learning Hosted by Dr. Mario Chiasson, Director of Research, Innovations and Change Management, District scolaire francophone Sud and Katina Papulkas
Senior Education Strategist, Dell Technologies & Jeremiah Okal-Frink Senior Education Strategist, Dell Technologies
How EdTechs are accelerating their growth with the AWS Cloud, learn how EdTech companies are developing scalable and secure technology solutions with AWS to accelerate their go-to-market strategies. With dedicated resources and programs, AWS supports EdTechs to start, expand, and optimize their business and transform education globally. Hosted by AWS, Barrett Newman, Sr. Solutions Architect – EdTech & Robyn Reekie, Canada Education Business Dev Manager
Technology in Public Education a Conversation on Cybersecurity and Data Privacy in K12 Education and School beyond COVID-19 priorities: wellbeing for learning and living, equity and inclusion now & Technology integration Hosted by C21 Canada, CIO Alliance Members: Peter Singh, Executive Officer – IT Services/CIO Alliance Chair 
Toronto District School Board, Kurt Binnie, Director Innovation & Technology
Lester B. Pearson School Board & Marc Lijour, VP Capacity Building and Innovation, ICTC
Well-being using technology; promoting mental health in the school community Hosted by Dr. Nancy Heath, Professor Educational & Counseling Psychology, McGill University
The importance of how to drive innovation through effective partnerships & driving successful uptake of technology in the classroom Hosted by Dr. Susanne Lajoie, Educational & Counselling Psychology, McGill University
Cancode; Inspiring Stem, coding and robotics through an equity, inclusion and diversity lens Hosted by Peter Skillen, Project & Curriculum Lead, CodeToLearn and Michael Quinn, President, LCSI
The Future of Online Learning Models, What's Working? Hosted by: Maxim Jean-Louis, President - Chief Executive Officer, Contact North &  Dr. Ron Owston, University Professor Emeritus and Senior Scholar, York University
Canadian EdTech Alliance: Issues, Challenges & Opportunities for growth in the US. market. Hosted by: Robert Martellacci
Founder & CEO, MindShare Learning, Canadian EdTech Alliance & Founder & Conference Chair, Canadian Edtech Leadership Summit , Julia Fallon,
Executive Director, State Educational Technology Directors Association (SETDA) & Eileen Belastock, CETL, EdTech Consultant, Belastock Consulting
HEALTH / NETWORKING BREAK / EXPLORE EXHIBITS
WRAP UP & CLOSING REFLECTIONS
POST CONFERENCE CLOSING NETWORKING RECEPTION
Hosted by McGill University, Faculty of Ed
Join Us!

Reserve your Spot Today