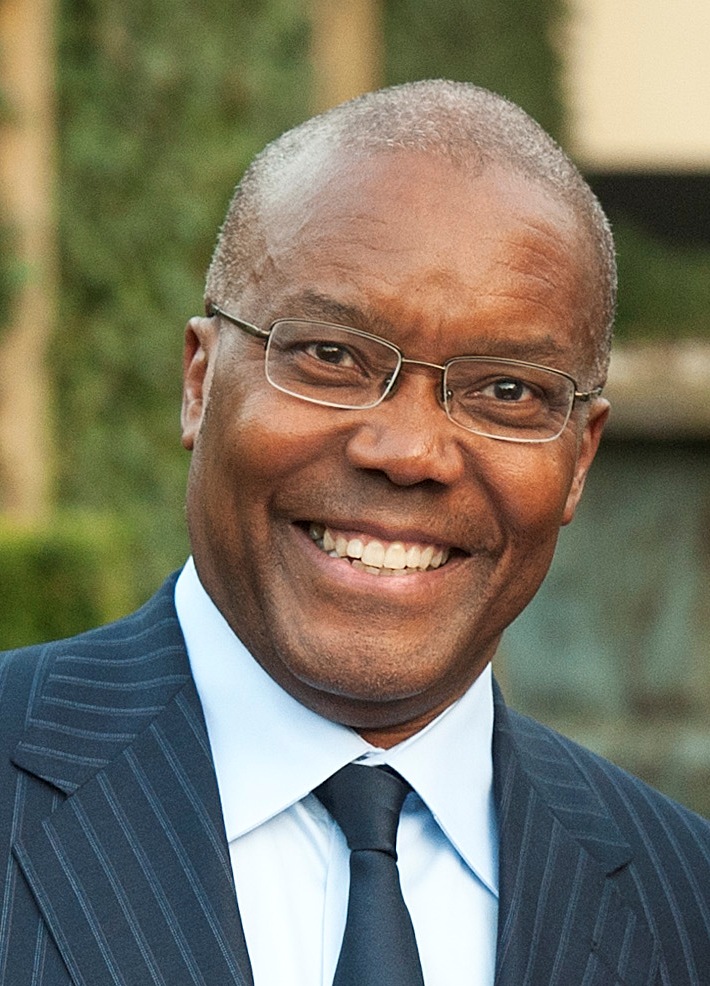 Maxim Jean-Louis
Chief Executive Officer of Contact North | Contact Nord

Maxim Jean-Louis is President – Chief Executive Officer of Contact North | Contact Nord, Ontario's Distance Education and Training Network, headquartered in Thunder Bay, Ontario.
Maxim worked in senior management roles for over 15 years at Athabasca University in Alberta, Canada's open university.
He is also a member of the Comité consultatif en matière d'éducation postsecondaire en langue française dans les régions du Centre et du Sud-ouest.
Maxim is a former Chair of the Board of Directors of the World University Service of Canada and of the Optical Regional Advanced Network of Ontario, as well as a past member of Ontario's Postsecondary Education Quality Assessment Board, and he served as a member of the Canadian Advisory Mission to support the implementation of the South African National Qualifications Framework (NQF) by the South African Qualifications Authority. He also served as President of Collège des Grands Lacs, one of Ontario's three French-language community colleges.
In 2011, Maxim was appointed Special Advisor to Ontario's Minister of Training, Colleges and Universities for an Ontario Online Institute, producing a 125-page report and recommendations to the Minister on opportunities for online learning in the province.
Wednesday Day One 27th Oct
OPENING RECEPTION, FIRESIDE CHAT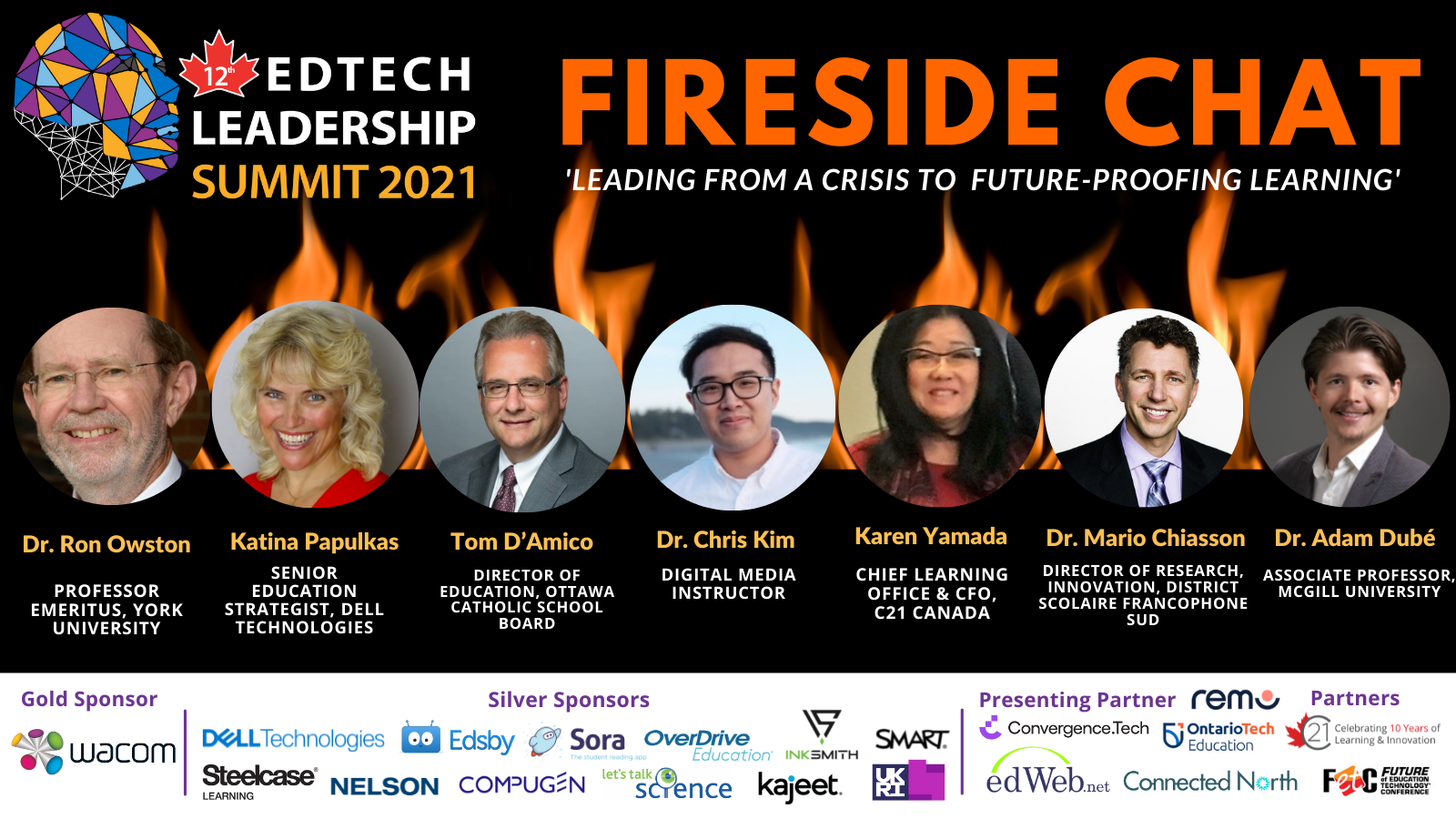 'Leading Beyond a Crisis to Future Proofing Learning'
Moderator 
           Robert Martellacci  – President, MindShare Learning Technology
The Panel Includes:
Tom D'Amico –  Director of Education, Ottawa Catholic School Board
Karen Yamada –  Chief Learning Officer & CFO, C21 Canada
Dr. Ron Owston – Professor Emeritus, York University
Katina Papulkas – Senior Education Strategist, Dell Technologies
Dr. Chris Kim – Digital Media Instructor, Web Developer, & Research Engineer
Dr. Mario Chiasson – Director of Research, Innovations and Change Management at District scolaire francophone Sud
Dr. Adam Dubé – Associate Professor, Department of Educational and Counselling Psychology, Director, Learning Sciences & Health Professions Education, McGill University.
Thursday Day Two 28th Oct
CROSS CANADA INTERNATIONAL CHECK UP PANEL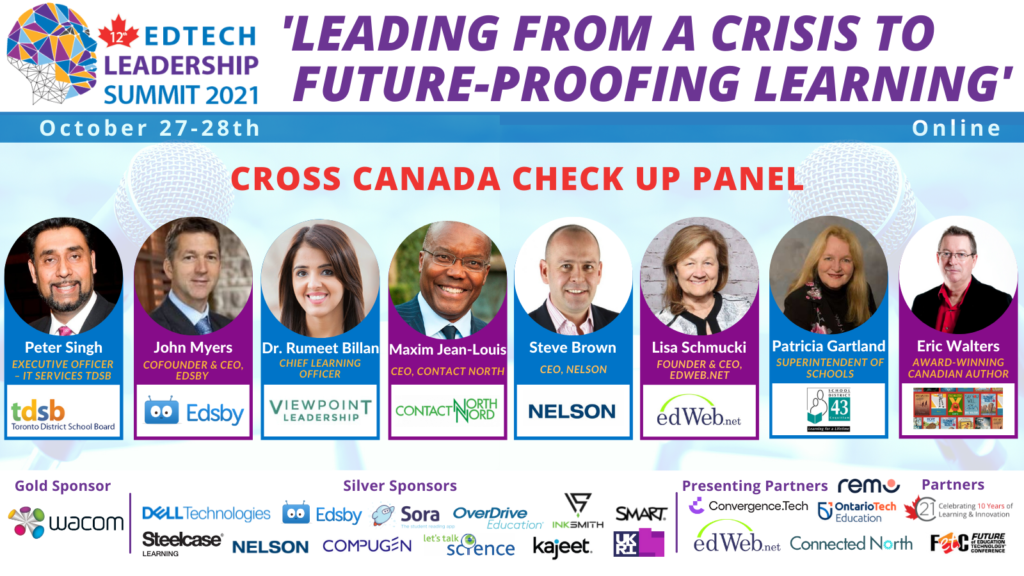 Gain Valuable Insights From Canadian and Global Experts on Leading Beyond a Crisis to Future Proofing Learning
John Myers, Cofounder & CEO, Edsby
Lisa Schmucki, Founder & CEO, edWeb.net
Peter Singh, Executive Officer IT Services, TDSB
Patricia Gartland, Member Board Of Directors at BC Council for International Education, CEO/Superintendent of Schools BC
Dr. Rumeet Billan, Award-winning, internationally recognized entrepreneur, learning architect, speaker, author, humanitarian, and Canada's top 10 power women 2020
Steve Brown, President & Chief Executive Officer, NELSON
Maxim Jean-Louis, Chief Executive Officer of Contact North | Contact Nord
Eric Walters, Award-winning Canadian Author