SCHEDULE DETAILS

Information of Event Schedules

World is committed to making participation in the event a harassment free experience for everyone, regardless of level of experience, gender, gender identity and expression
Hosted at University of Ottawa
REGISTRATION/SITE TOURS of the University of Ottawa Newly Renovated State of the Art Faculty of Education Resource Centre
WELCOME/ UNIVERSITY OF OTTAWA LAND ACKNOWLEDGEMENT/FIRESIDE CHAT
Summit Welcome
Robert Martellacci, Founder & Conference Co-Chair
Richard Barwell  –Dean & Full Professor, University of Ottawa
Tom D'Amico –Director of Education, Ottawa Catholic School Board
Fire Side Chat Panel
"The Future of Post-secondary Education, Bridging the Gap with K12"
Moderator: Richard Barwell  –Dean & Full Professor, University of Ottawa

The Panellists
27th CAN/AM NETWORKING RECEPTION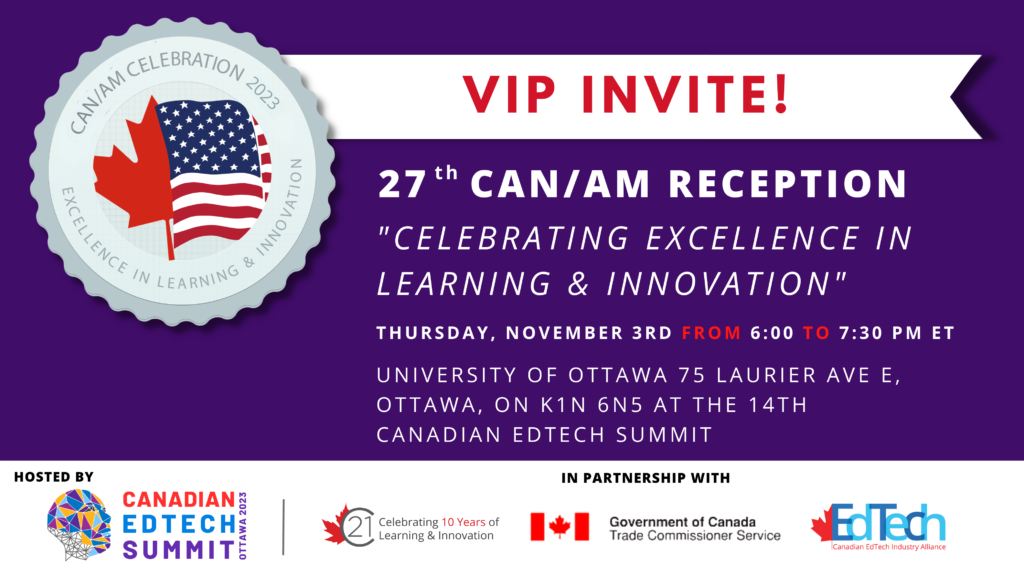 Hosted by Ottawa Catholic School Board at St. Paul High School
REGISTRATION, LIGHT BREAKFAST & EXPLORE EDTECH SHOWCASE
WELCOME, FIRST NATIONS LAND ACKNOWLEDGEMENT AND OFFICIAL GREETINGS
Robert Martellacci, Founder & Conference Co-Chair
Geoff Edwards, Co-Chair, Superintendent of Learning Technologies Ottawa Catholic School Board
Tom D'Amico, Director of Education, Ottawa Catholic School Board
Michael Fullan, Summit MC, Professor Emeritus, OISE/University of Toronto, Co-Director of New Pedagogies for Deep Learnings
HEALTH/ NETWORKING BREAK/ EXPLORE EDTECH SHOWCASE
LUNCH TIME, NETWORKING & EXPLORE EDTECH SHOWCASE
DRAGON'S DEN STARTUP CHALLENGE
The 8th Dragon Den's Start-Up Challenge—inspired by the hugely popular TV show Dragon's Den. This challenge is an opportunity for EdTech startups across North America to showcase their innovative solutions. In this competition taking place at the 14th Canadian EdTech Summit 2023, each participant can give a 2-minute pitch to showcase their innovative EdTech solutions and impress our expert panel of judges, comprised of North America's leading EdTech thought leaders. The winning startup will get the opportunity to be mentored by MindShare Learning in their EdTech Incubator Program for a year and receive exclusive booth space at FETC. Please complete this form to enter your EdTech start up into this year's challenge!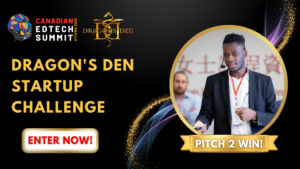 EXPERT PANEL PRESENTATIONS
1. CIO Panel Designing Scalable Bulletproof Learning Environments with a Cybersecurity & Data Privacy Lens
panellists
Geoff Edwards, Superintendent of Learning Technologies, Ottawa Catholic School Board
Diane Doersch, Senior Director of Information Technology, Digital Promise
Peter Singh, Executive Officer – IT Services, TDSB
2. A CanAm Lens to Empowering, Courageous Leadership in achieving Sustainable Digital Transformation in Education embracing both AI & HI
Panellists:
Kathy Hurley, President, Kathy Hurley Consulting LLC, Co-Founder, Girls Thinking Global & Former EVP Pearson Foundation and Industry Consultant
Lisa Schmucki, Founder & CEO, edWeb.net
Jennifer Ferrari, CEO & President,  Education Research & Development Institute
Kristina Ishmael, Deputy Director, Office of Ed Tech U.S. Department of Education
Berj Akian, Founder & CEO, ClassLink
Michael Campbell, President, Advancing Global EDU
3. Designing Your Ultimate Learning Environment of the Future 
Panellists:
Karen Yamada, Chief Learning Office & CFO, C21 Canada
Dr. Mario Chiasson, Director of Research, Innovations and Change Management at District scolaire francophone Sud
Dr. Barbara "Bobbi" Kurshan, Public/Private Company Board Director, C-Suite Executive, Audit, CEO, Author
Luc Goudreault, CEO, Vireo
HEALTH / NETWORKING BREAK / EXPLORE EDTECH SHOWCASE
WELCOME/REGISTRATION/BUILDING DESIGN THINKING TOURS/EXPLORE EXHIBITS/NETWORKING
Newly Redesigned State of Art Learning Commons & Classroom Tours
WELCOME/ McGill University Land Acknowledgement/FIRESIDE CHAT
The State of EdTech in Canada: 'Driving Innovation Through Evidence-based Research'
Moderator 
          Robert Martellacci  – President, MindShare Learning Technology
The Panel Includes:
Maxim Jean-Louis – Chief Executive Officer of Contact North | Contact Nord
Karen Yamada – Chief Learning Office & CFO, C21 Canada
Dr. Mario Chiasson – Director of Research, Innovations and Change Management at District scolaire francophone Sud
Dr. Adam Dubé – Associate Professor and Director of the Technology Learning and Cognition Lab, McGill University
Artur Rodrigues, Cloud Innovation Center Tech Lead, AWS
Geoff Edwards, Superintendent of Learning Technologies, Ottawa Catholic School Board