SCHEDULE DETAILS

Information of Event Schedules

World is committed to making participation in the event a harassment free experience for everyone, regardless of level of experience, gender, gender identity and expression
VIRTUAL CHECK-IN/EXPLORE THE VIRTUAL EXHIBIT AREA
Register and login online through virtual conferencing platform.
WELCOME AND OFFICIAL GREETINGS
Greetings from Robert Martellacci, Founder and Conference Chair, Charting the Course of the Day with Dr. Tracey Burns, Senior Analyst, OECD Education, Skills Global Update & Vision for Future-Proofing Learning And Dave Bolton, Director of Sales – Canada for Wacom, Summit's Gold Sponsor.
CROSS CANADA INTERNATIONAL CHECK UP PANEL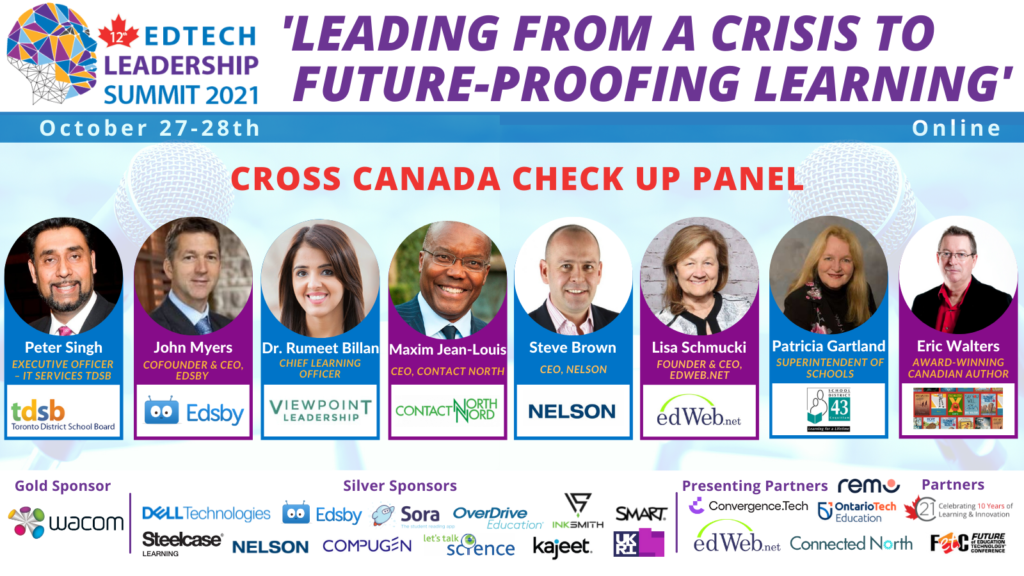 Gain Valuable Insights From Canadian and Global Experts on Leading Beyond a Crisis to Future Proofing Learning
John Myers, Cofounder & CEO, Edsby
Lisa Schmucki, Founder & CEO, edWeb.net
Peter Singh, Executive Officer IT Services, TDSB
Patricia Gartland, Member Board Of Directors at BC Council for International Education, CEO/Superintendent of Schools BC
Dr. Rumeet Billan, Award-winning, internationally recognized entrepreneur, learning architect, speaker, author, humanitarian, and Canada's top 10 power women 2020
Steve Brown, President & Chief Executive Officer, NELSON
Maxim Jean-Louis, Chief Executive Officer of Contact North | Contact Nord
Eric Walters, Award-winning Canadian Author
HEALTH/NETWORKING BREAK FEATURING Janet Omstead, PLAY Coach | Executive Health PLAY Program Director | Author | Speaker
Includes Janet Omstead Book Give-Away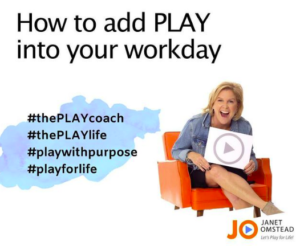 Exploring the Virtual Exhibit Area & build your personal learning network virtually by connecting with conference delegates.
LUNCH NETWORKING BREAK: EXPLORE THE VIRTUAL EXHIBITOR SPACE
Wacom SPOTLIGHT SPEAKERS
Dave Bolton & Sam Kary
Topic: Simple Tech Tools to Future-Proof Your Classroom and Make the Technology You Have Do Even More.
About Wacom
Wacom is committed to education
As leaders in intuitive, easy-to-use digital pen technology, Wacom helps schools and universities keep up with the pace of change. Our interactive digital pen tablet and display solutions help boost creativity, collaboration, and interaction. They're affordable, reliable and designed to integrate seamlessly with your IT infrastructure. From the fine arts and CTE programs to any core curriculum classes, Wacom tools are proven performers in any learning scenario.
Links for Wacom Canada
https://www.wacom.com/en-ca/education
https://www.wacom.com/en-ca/education/teachers-for-teachers
VIRTUAL POWER PRESENTATIONS
Centering Wellbeing through Learning Spaces.
Hosted by Aileen Strickland, Senior Design Researcher, Workspace Futures, Steelcase.
C21 Canada Roundtable: Announcing the release of new report "School after COVID 19: Accelerating the changes that matter K to 12 learners in Canada".  Hosted by Karen Yamada, Chief Learning Officer & David Roberts, President, C21 Canada.
How Edmonton Catholic is future-proofing their school board to empower every student and teacher to achieve more in ANY learning environment. With hybrid learning here to stay, classrooms need to be flexible and engaging. Find out how Edmonton Catholic is leveling the playing field and creating an environment where every student will succeed. Hosted by Adrienne Veneziano, Learning Development Specialist, Compugen & Trisha Roffey, Emerging Technology Consultant – Team Lead, Edmonton Catholic Schoolboard.
DELL: Digital Literacy Hosted by Katina Papulkas, Senior Education Strategist, DELL Join us to hear about what Dell Technologies is doing in relation to digital literacy to support student centred learning and global competency development & to share best practices and lessons learned around digital literacy in support of student learning.
ICTC Cybersecurity: How to future proof your organization through cybersecurity best practices. Hosted by Namir Anani, President & CEO, ICTC.
A Global Lens on the Future of Learning. Hosted by Dr. Sugata Mitra & Stephen Cox, CEO, Osiris Educational.
Supporting Indigenous students with Digital Skills & Learning Resources. Hosted by Michael Furdyk, Co-founder & Director of Innovation, TakingITGlobal
The New Blended Normal: 7 Models for Future-Proofing Learning. Face-to-face classes are resuming but blended learning will be the "new normal". In this session, Dr, Ron Owston details 7 blended learning models we can use and discusses their strengths and limitations. Hosted by Ron Owston, University Dean Emeritus and Senior Scholar, Faculty of Education, York University.
OverDrive Education: How to leverage technology to address learning loss with ebooks. Hosted by Andrea Hotton, Account Executive, OverDrive Sora.
Tamara Smith and Adele Reynolds from Let's Talk Science will lead a discussion on equity, inclusion, and going virtual with STEM-Based teaching and learning.
Purpose-Driven Learning in the Classroom: Teaching coding through the lens of the UN SDGs. Hosted by Michelle Valtas, Senior Marketing Manager, InkSmith. 
Round table of 2 x 45-minute sessions.
Session 1: Hosted/led by Christian Inglis, the Innovate UK lead for the GBIP programme, working around the theme of "Solving problems – We have the technology!" - Showcasing innovative UK companies with exciting new EdTech products. (4 x 5 minutes pitches with discussion).
Session 2: Connecting educators and innovators – a pathway to shared knowledge and collaboration. Led by Robert Martellacci, MindShare Learning, Conference Chair
NETWORKING BREAK
Explore the Virtual Exhibit Area
CLOSING KEYNOTE
Melissa is an award-winning Educator, specialized in EdTech, STEM, Music/Arts Integration, and Project-Based Learning from Winnipeg, Manitoba. She is the founder and president of Middle Years Esport Manitoba and the Canadian Middle School Esport Association, and actively involved in scholastic esports advocacy, research, and publication. Winner of the Canadian Schools of the Future Challenge 2021
Topic
Inspiring the next generation of students through challenge based learning
POST CONFERENCE CLOSING NETWORKING RECEPTION
PRE-FIRESIDE CHAT NETWORKING
VIRTUAL CONFERENCE REGISTRATION, NETWORKING, AND VIRTUAL EXHIBITOR AREA
OPENING RECEPTION, FIRESIDE CHAT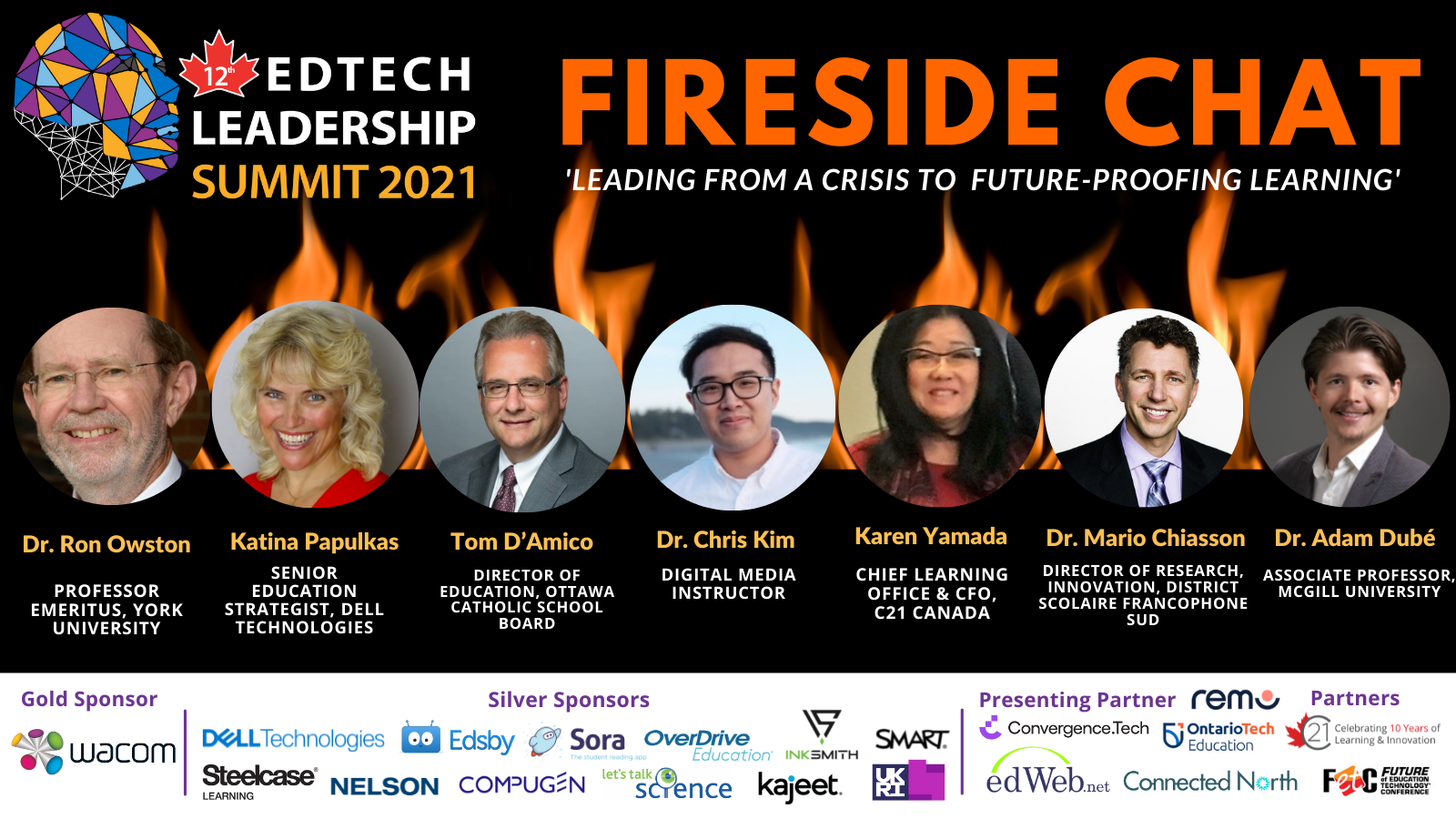 'Leading Beyond a Crisis to Future Proofing Learning'
Moderator 
           Robert Martellacci  – President, MindShare Learning Technology
The Panel Includes:
Tom D'Amico –  Director of Education, Ottawa Catholic School Board
Karen Yamada –  Chief Learning Officer & CFO, C21 Canada
Dr. Ron Owston – Professor Emeritus, York University
Katina Papulkas – Senior Education Strategist, Dell Technologies
Dr. Chris Kim – Digital Media Instructor, Web Developer, & Research Engineer
Dr. Mario Chiasson – Director of Research, Innovations and Change Management at District scolaire francophone Sud
Dr. Adam Dubé – Associate Professor, Department of Educational and Counselling Psychology, Director, Learning Sciences & Health Professions Education, McGill University.
22nd CANAM CELEBRATION OF EXCELLENCE NETWORKING RECEPTION AND STARTUP SHOWCASE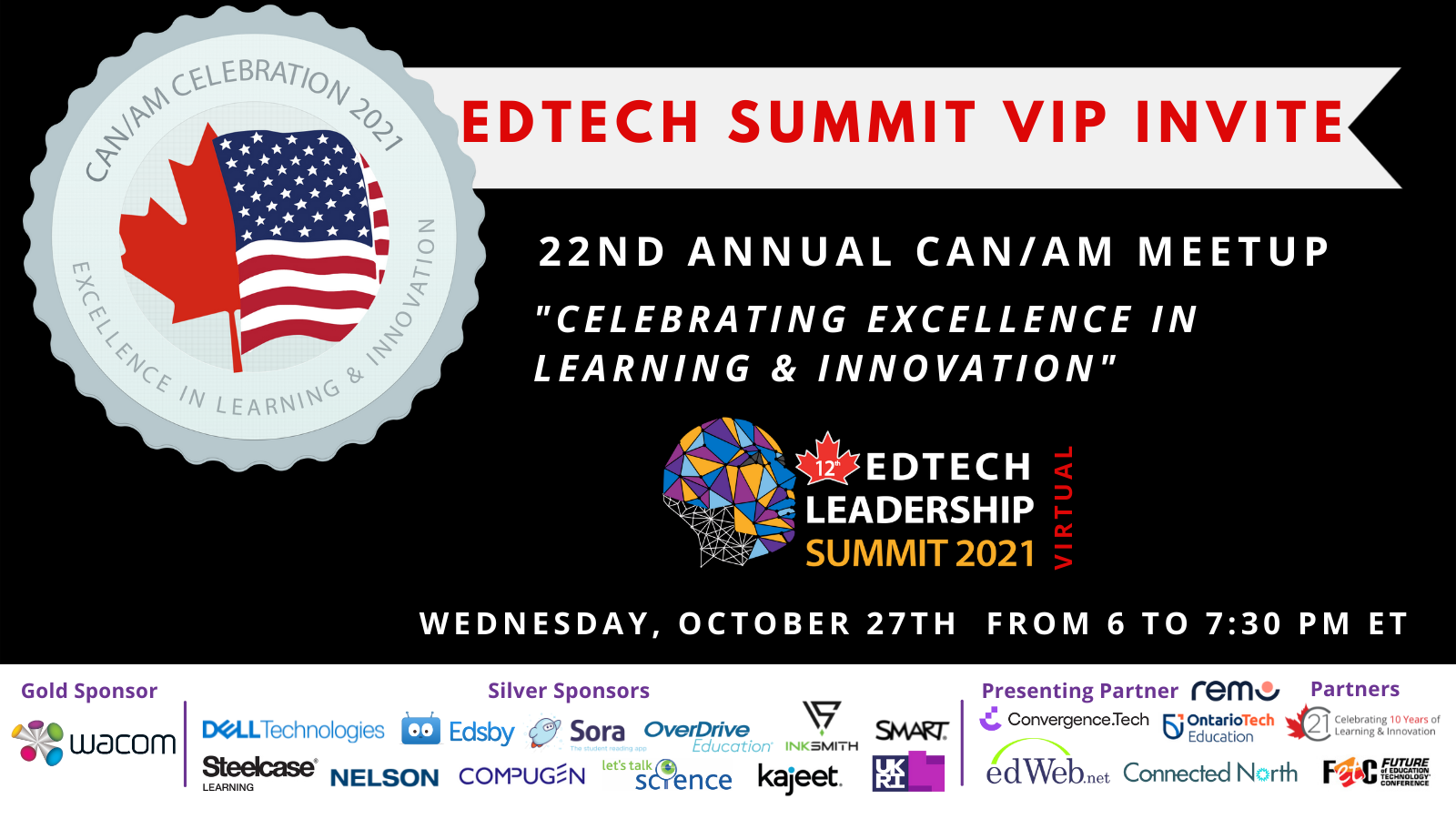 Virtual Networking Tool REMO
CAN/AM Networking with conference attendees.
Startup Showcase Featuring ICUBE UTM & Innovate UK Startups.
Meet potential partners and discuss new opportunities with our valued sponsors.
Exhibitors will be seated at the virtual tables to discuss opportunities and products.