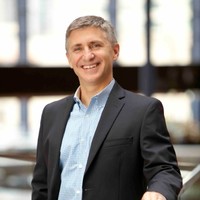 Dr. Peter Balyta
President, Worldwide Education Business, corporate vice president of academic engagement and president of the Education Technology business, Texas Instruments

Peter Balyta, Ph.D., is corporate vice president of academic engagement and president of the Education Technology business at Texas Instruments. He is responsible for leading teams that focus on the mission of improving the teaching and learning of science, technology, engineering and math (STEM) subjects. This includes several groups and programs that span TI, all of which aim to help students develop a strong educational foundation, setting them up for future success in a workforce that increasingly demands STEM skills:
Education Technology, a global business that delivers market-leading science and math learning products, teacher professional development and classroom resources for the K–12 market.
The university program, which works with university engineering faculty and students to facilitate the inclusion of TI technology in the learning experience.
Collaboration with university engineering research faculty to work on life-improving research projects.
Before starting his career at TI in 2000, Balyta was a mathematics educator, math and science district supervisor and a Teachers Teaching with Technology™ (T³™) instructor. In his roles at TI, he has brought his enthusiasm and experience from the classroom to support and drive TI's education vision of equipping and inspiring future generations of leaders and engineers.
Balyta holds a Ph.D. in mathematics and technology education from McGill University; a master of science in mathematics education from Concordia University; and a master of business administration from the University of Texas at Dallas. He remains an educator at heart and is passionate about engaging today's students in STEM subjects to build the problem-solving and critical thinking skills needed for tomorrow's workforce.
Thursday Day Two Oct 20th
LUNCH TIME KEYNOTE, NETWORKING & EXHIBITS OPEN
Texas Instruments, President, Worldwide Education Business, Corporate VP, University Research & Corporate Citizenship
Topic: Engineering the future through STEM education – a corporate perspective